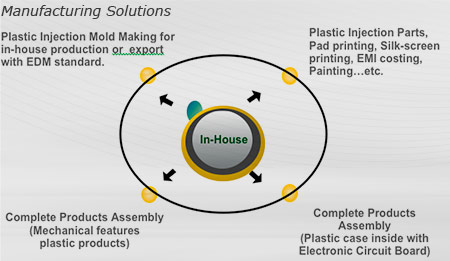 Assembly
Value-Added Services
Full turnkey product delivery
Custom packaging
Private label branding
Industrial design
Firmware Customization
Agency, Regulatory and Certification Testing
Program Management
Cable Assembly
CD Replication
Worldwide logistics support
Vendor managed inventory
Cables Assemblies and Connectors
I/O Interconnect is a full service provider of a wide variety of cable assemblies, connectors, and interconnect solutions. Our engineering and 3D CAD capabilities, along with our own machine shop and prototype manufacturing facilities, enable us to provide quick turnaround on tooling and new designs. Manufacturing is vertically integrated, with extensive quality control and testing capabilities built-in to provide world class production at competitive prices.
Whatever your interconnect needs, I/O Interconnect specialists are available to provide solutions that will match your specific requirements.
MP3 Players, Consumer Electronics, Portable Devices
USB and mini-USB
Flex cables
Audio and Video
Custom Cables
Computer, Networking and Storage
RJ-11 Modular Cables
Cat-5, 5e, 6 Networking Cable
IEEE 1284
IEEE 1394 (FireWire)
SCSI and DVI
Harnesses
Quality System
ISO 9001 : 2000 certified.
UL Registered for Injection mold making and Plastic Injection.
UL # E209166
IPC-610B and IPC-610C Electronic Assembly Standard.
ANSI/SQC Z1.4 – 1993 Sampling plan standard for Incoming materials and Out-going products inspection.