Company Profile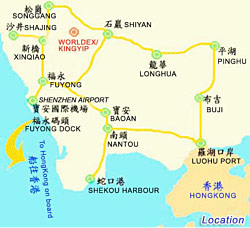 Worldex was established as an OEM/ODM manufacturer. Worldex specializes in designing plastic injection parts, sheet metal parts, aluminum extrusion parts, schematic, PCB layout. Worldex also supplies battery packs and chargers for the battery industry.
Worldex values the hard work of those who introduce our engineering services and manufactory to end customers. Through the years, we have formed a strong relationship with independent consultants, sourcing agents, manufacturing service agents, distributors, representatives, developers and design engineers, who bring business to our factory. It is our commitment and long-standing policy that those who bring us a project will share the benefits. There will be no short circuit with Worldex! Please click here to learn more about our protective measures for business partners.
Electronic Contract Manufacturer for Industrial and Consumer Electronics!
Worldex is a leading contract manufacturing companies in China for both industrial and consumer electronics products. In the last 15 years, we have designed, developed, manufactured or assembled a large variety of electronics products or parts, including industrial instruments and testers, medical instruments, audio-visual appliances, wireless communications equipment and devices, automobile accessories, computer boards and accessories, multilayer high-density PCBs, various display panels and modules, Internet and network based products and accessories, etc. We serve both large and small clients. We have state-of-the-art equipment and facilities to manufacture either small, medium or large volume products. Due to our strict quality control, outstanding services and low cost, Worldex has been the choice for developers, manufacturers and other business partners all over the world for their design engineering and manufacturing needs. Our annual production capacity is approx. 50 million pieces of various electronics parts, devices, instruments, equipment or appliances, which are shipped to more than 20 countries around the world.
Experienced Design Engineering Team
Worldex attributes the success to our strong design engineering team. All our engineers have advanced degrees from top universities in China or Hong Kong. Most of our engineers have more than 10 years of experience in their speciality. Many can speak english making it easier to communicate with our business clients Our collective engineering capabilities covers most areas in industrial and consumer electronics, including PCB design, analog and digital system, microprocessors and embedded systems, PC-based hardware and software, wireless control and communications, network-based system, audio and visual design, user-interactive systems, and manufacturing tooling and molding. We also have on board experts in various certifications, including CE, UL, CSA, TUV, FCC, etc. We attach great importance to continuing education for all our team members, even the senior engineers, to keep up with the development of new technologies.
Flexible Business Modes: Work with You at Any Stage of Development
Worldex believes that every project is important and unique, and for that reason we do not impose a fixed business mode upon our clients. We can form a business relationship based on OEM, ODM, design engineering, manufacturing of certain parts, private labeling existing products, or building complete turn-key projects. Our strength is in designing and manufacturing both industrial and consumer electronics, bringing a concept to a complete product. Though you can achieve best results by working with us from the very beginning, we are willing to work with you at any stage of your development cycle. We can even take on projects started by other manufacturers, by recommending remedial solutions and executing new strategies in a timely manner and most cost-saving way.
Protection of Intellectual Properties and Confidential Information
Worldex can assist with patents, trademarks and/or other types of intellectual property rights. We usually recommend our clients to obtain appropriate protection before going into production and marketing, by helping with the design and engineering that is necessary for applying for such protection. This will ensure that the products survive today's fierce competition and bring well-deserved profits to our clients. By doing so, Worldex intends to have a long-term project and business relationship. In the meanwhile, your patents, trademarks and other intellectual properties, as well as marketing data and trade secrets will be strictly protected by Worldex under binding agreements and contracts. Though we design and make generic products for various clients, many of our design and manufacturing projects involve certain intellectual property rights.